NACCO Industries, Inc. (NYSE:NC) announced a quarterly dividend on Thursday, November 8th, Wall Street Journal reports. Shareholders of record on Friday, November 30th will be paid a dividend of 0.165 per share on Friday, December 14th. This represents a $0.66 dividend on an annualized basis and a yield of 1.85%. The ex-dividend date of this dividend is Thursday, November 29th.
NACCO Industries has decreased its dividend payment by an average of 1.5% annually over the last three years.
Shares of NC stock opened at $35.76 on Friday. NACCO Industries has a 52-week low of $28.77 and a 52-week high of $48.85. The company has a quick ratio of 2.68, a current ratio of 3.43 and a debt-to-equity ratio of 0.03. The firm has a market capitalization of $258.63 million, a price-to-earnings ratio of 8.91 and a beta of 0.46.
In other NACCO Industries news, insider Martha S. Kelly sold 1,000 shares of the stock in a transaction dated Friday, August 17th. The shares were sold at an average price of $34.63, for a total transaction of $34,630.00. Following the completion of the transaction, the insider now owns 7,550 shares of the company's stock, valued at approximately $261,456.50. The transaction was disclosed in a legal filing with the Securities & Exchange Commission, which can be accessed through the SEC website. 30.57% of the stock is owned by corporate insiders.
An institutional investor recently raised its position in NACCO Industries stock. Bank of New York Mellon Corp lifted its holdings in NACCO Industries, Inc. (NYSE:NC) by 3.5% in the second quarter, according to the company in its most recent 13F filing with the Securities and Exchange Commission. The fund owned 51,327 shares of the company's stock after acquiring an additional 1,735 shares during the period. Bank of New York Mellon Corp owned 0.74% of NACCO Industries worth $1,732,000 at the end of the most recent quarter. Institutional investors and hedge funds own 44.96% of the company's stock.
WARNING: This news story was first reported by Macon Daily and is the property of of Macon Daily. If you are reading this news story on another site, it was illegally copied and reposted in violation of US and international trademark & copyright laws. The correct version of this news story can be viewed at https://macondaily.com/2018/11/09/nacco-industries-inc-declares-quarterly-dividend-of-0-17-nc.html.
NACCO Industries Company Profile
NACCO Industries, Inc operates primarily in the mining industry. The company mines coal in North Dakota, Texas, Mississippi, Louisiana, and on the Navajo Nation in New Mexico for power generation. It provides value-added services, including maintaining and operating draglines for independently owned lime rock quarries; coal handling, processing, and drying services; and surface and mineral acquisition, and lease maintenance services.
Featured Article: Stop Order Uses For Individual Investors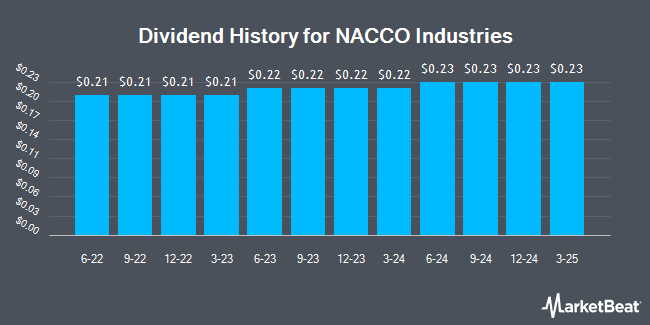 Receive News & Ratings for NACCO Industries Daily - Enter your email address below to receive a concise daily summary of the latest news and analysts' ratings for NACCO Industries and related companies with MarketBeat.com's FREE daily email newsletter.