Trinseo (NYSE:TSE) updated its fourth quarter earnings guidance on Thursday. The company provided earnings per share (EPS) guidance of $1.27-1.46 for the period, compared to the Thomson Reuters consensus estimate of $1.79. Trinseo also updated its FY 2018 guidance to $7.96-8.15 EPS.
Several analysts recently weighed in on the company. Barclays dropped their price target on Trinseo from $88.00 to $71.00 and set an equal weight rating for the company in a report on Thursday, October 11th. Zacks Investment Research cut Trinseo from a strong-buy rating to a hold rating in a report on Thursday, October 11th. ValuEngine cut Trinseo from a sell rating to a strong sell rating in a report on Thursday, October 11th. Citigroup dropped their price target on Trinseo from $80.00 to $76.00 and set a neutral rating for the company in a report on Wednesday, October 10th. Finally, MED reissued a buy rating and set a $90.00 price target on shares of Trinseo in a report on Thursday, August 2nd. One investment analyst has rated the stock with a sell rating, three have assigned a hold rating and five have assigned a buy rating to the stock. Trinseo has a consensus rating of Hold and a consensus target price of $85.57.
NYSE:TSE traded down $1.96 during mid-day trading on Friday, hitting $55.77. 796,535 shares of the stock were exchanged, compared to its average volume of 345,562. The stock has a market cap of $2.47 billion, a P/E ratio of 6.86, a PEG ratio of 0.55 and a beta of 2.50. The company has a current ratio of 2.87, a quick ratio of 2.01 and a debt-to-equity ratio of 1.45. Trinseo has a fifty-two week low of $50.20 and a fifty-two week high of $85.35.
Trinseo (NYSE:TSE) last released its quarterly earnings results on Thursday, November 8th. The basic materials company reported $1.83 earnings per share for the quarter, topping the Thomson Reuters' consensus estimate of $1.80 by $0.03. The business had revenue of $1.20 billion during the quarter, compared to analysts' expectations of $1.15 billion. Trinseo had a return on equity of 59.09% and a net margin of 8.11%. The firm's revenue for the quarter was up 9.4% compared to the same quarter last year. During the same period last year, the firm posted $2.18 EPS. As a group, sell-side analysts forecast that Trinseo will post 8.86 EPS for the current year.
The business also recently disclosed a quarterly dividend, which was paid on Wednesday, October 24th. Shareholders of record on Wednesday, October 10th were issued a $0.40 dividend. The ex-dividend date was Tuesday, October 9th. This represents a $1.60 annualized dividend and a yield of 2.87%. Trinseo's dividend payout ratio is presently 19.68%.
ILLEGAL ACTIVITY WARNING: This story was published by Macon Daily and is the property of of Macon Daily. If you are accessing this story on another site, it was copied illegally and republished in violation of international trademark and copyright law. The original version of this story can be viewed at https://macondaily.com/2018/11/09/trinseo-tse-releases-q4-earnings-guidance.html.
About Trinseo
Trinseo SA, a materials company, manufactures and markets synthetic rubber, latex binders, and plastic products in Europe, the United States, the Asia Pacific, and internationally. The company operates through Latex Binders, Synthetic Rubber, Performance Plastics, Basic Plastics, Feedstocks, and Americas Styrenics segments.
Recommended Story: Hedge Funds – How They Work For Investors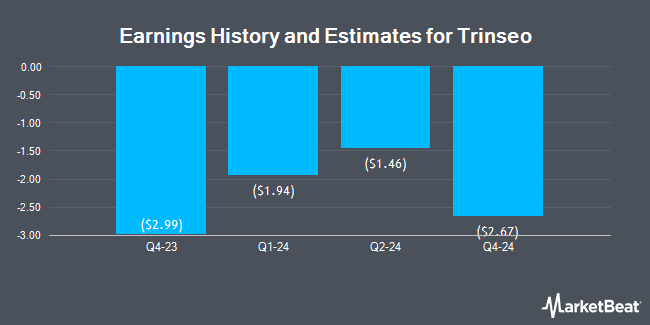 Receive News & Ratings for Trinseo Daily - Enter your email address below to receive a concise daily summary of the latest news and analysts' ratings for Trinseo and related companies with MarketBeat.com's FREE daily email newsletter.