Algonquin Power & Utilities Corp (TSE:AQN) has earned a consensus rating of "Buy" from the nine analysts that are currently covering the company, MarketBeat.com reports. Five investment analysts have rated the stock with a buy recommendation and one has assigned a strong buy recommendation to the company. The average 12-month target price among brokers that have issued ratings on the stock in the last year is C$15.47.
Separately, National Bank Financial downgraded Algonquin Power & Utilities from an "outperform overweight" rating to a "sector perform overweight" rating in a report on Thursday.
Shares of Algonquin Power & Utilities stock opened at C$13.63 on Friday. Algonquin Power & Utilities has a 1 year low of C$12.18 and a 1 year high of C$14.40. The company has a debt-to-equity ratio of 97.97, a quick ratio of 0.60 and a current ratio of 1.08.
Algonquin Power & Utilities (TSE:AQN) last announced its quarterly earnings results on Thursday, August 9th. The company reported C$0.14 earnings per share (EPS) for the quarter, beating the consensus estimate of C$0.11 by C$0.03. The business had revenue of C$472.67 million for the quarter, compared to analyst estimates of C$430.80 million. Research analysts expect that Algonquin Power & Utilities will post 0.629999997719044 EPS for the current fiscal year.
About Algonquin Power & Utilities
Algonquin Power & Utilities Corp., through its subsidiaries, owns and operates a portfolio of regulated and non-regulated generation, distribution, and transmission utility assets in Canada and the United States. The company generates and sells electrical energy through a portfolio of non-regulated renewable and clean energy power generation facilities.
Read More: Understanding the different types of bonds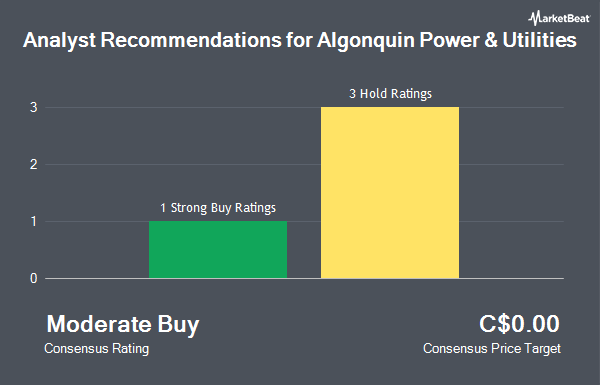 Receive News & Ratings for Algonquin Power & Utilities Daily - Enter your email address below to receive a concise daily summary of the latest news and analysts' ratings for Algonquin Power & Utilities and related companies with MarketBeat.com's FREE daily email newsletter.