Varex Imaging (NASDAQ:VREX) is scheduled to post its Q4 quarterly earnings results after the market closes on Tuesday, November 13th. Analysts expect Varex Imaging to post earnings of $0.31 per share for the quarter. Individual that are interested in registering for the company's earnings conference call can do so using this link.
Shares of VREX stock opened at $27.23 on Friday. The company has a current ratio of 3.16, a quick ratio of 1.42 and a debt-to-equity ratio of 0.89. Varex Imaging has a twelve month low of $24.06 and a twelve month high of $43.76. The company has a market capitalization of $1.04 billion, a P/E ratio of 15.13, a P/E/G ratio of 1.73 and a beta of 1.58.
A number of research analysts recently weighed in on the company. ValuEngine raised Varex Imaging from a "hold" rating to a "buy" rating in a research note on Thursday, July 26th. TheStreet downgraded Varex Imaging from a "c-" rating to a "d+" rating in a research note on Friday, October 26th. Zacks Investment Research raised Varex Imaging from a "strong sell" rating to a "hold" rating in a research note on Thursday, October 4th. Finally, Jefferies Financial Group cut their price objective on Varex Imaging to $33.00 and set a "buy" rating on the stock in a research note on Friday, August 3rd. Four investment analysts have rated the stock with a hold rating and one has given a buy rating to the stock. The company has a consensus rating of "Hold" and a consensus target price of $37.00.
In related news, CFO Clarence R. Verhoef acquired 3,300 shares of the business's stock in a transaction that occurred on Friday, August 17th. The shares were acquired at an average cost of $29.58 per share, with a total value of $97,614.00. The acquisition was disclosed in a document filed with the SEC, which is accessible through this link. 1.60% of the stock is currently owned by company insiders.
TRADEMARK VIOLATION NOTICE: "Varex Imaging (VREX) Scheduled to Post Earnings on Tuesday" was reported by Macon Daily and is the sole property of of Macon Daily. If you are reading this article on another site, it was illegally stolen and republished in violation of international copyright & trademark law. The correct version of this article can be accessed at https://macondaily.com/2018/11/11/varex-imaging-vrex-scheduled-to-post-earnings-on-tuesday.html.
Varex Imaging Company Profile
Varex Imaging Corporation designs and manufactures X-ray imaging components. The company operates in two segments, Medical and Industrial. The Medical segment designs, manufactures, sells, and services X-ray imaging components comprising X-ray tubes, digital flat panel image detectors, high voltage connectors, image-processing software and workstations, computer-aided diagnostic software, collimators, automatic exposure control devices, generators, ionization chambers, and buckys.
See Also: What are the components of an earnings report?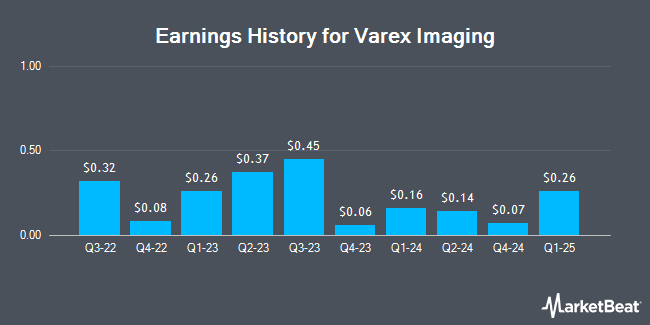 Receive News & Ratings for Varex Imaging Daily - Enter your email address below to receive a concise daily summary of the latest news and analysts' ratings for Varex Imaging and related companies with MarketBeat.com's FREE daily email newsletter.