Shares of Air France-KLM Sponsored (OTCMKTS:AFLYY) have earned a consensus recommendation of "Hold" from the seven brokerages that are presently covering the stock, MarketBeat.com reports. One investment analyst has rated the stock with a sell recommendation, five have assigned a hold recommendation and one has assigned a buy recommendation to the company.
AFLYY has been the topic of several recent research reports. Zacks Investment Research cut Air France-KLM from a "buy" rating to a "hold" rating in a research report on Tuesday, September 18th. Royal Bank of Canada reissued a "buy" rating on shares of Air France-KLM in a research report on Wednesday, October 31st. Macquarie assumed coverage on Air France-KLM in a report on Tuesday, November 27th. They set a "neutral" rating on the stock. Finally, ValuEngine raised Air France-KLM from a "sell" rating to a "hold" rating in a research report on Thursday, November 1st.
Shares of OTCMKTS:AFLYY traded up $0.02 during trading hours on Friday, hitting $10.39. 920 shares of the company's stock traded hands, compared to its average volume of 3,186. The firm has a market capitalization of $4.63 billion, a PE ratio of 4.48 and a beta of 0.66. The company has a debt-to-equity ratio of 3.84, a current ratio of 0.75 and a quick ratio of 0.70. Air France-KLM has a 1 year low of $7.78 and a 1 year high of $16.24.
Air France-KLM (OTCMKTS:AFLYY) last posted its quarterly earnings data on Wednesday, October 31st. The transportation company reported $1.76 EPS for the quarter, beating analysts' consensus estimates of $1.58 by $0.18. Air France-KLM had a negative net margin of 1.40% and a positive return on equity of 20.56%. The company had revenue of $8.77 billion for the quarter, compared to analyst estimates of $8.70 billion. Equities research analysts expect that Air France-KLM will post 1.6 EPS for the current fiscal year.
Air France-KLM Company Profile
Air France-KLM SA, together with its subsidiaries, provides passenger transportation services on scheduled flights. The company operates through Network, Maintenance, Transavia, and Other segments. It also offers cargo transportation and aeronautics maintenance services; and other air-transport-related services.
Further Reading: Determine Your Level of Risk Tolerance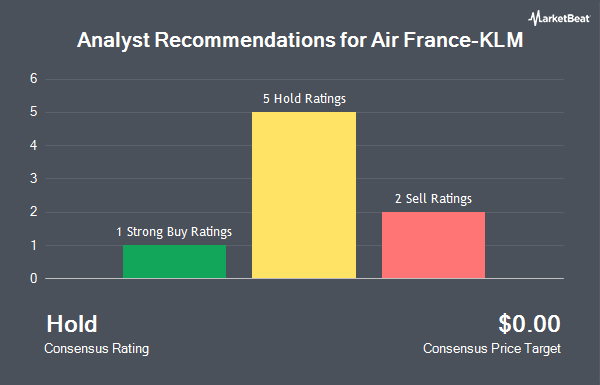 Receive News & Ratings for Air France-KLM Daily - Enter your email address below to receive a concise daily summary of the latest news and analysts' ratings for Air France-KLM and related companies with MarketBeat.com's FREE daily email newsletter.