Surge Energy (TSE:SGY) had its price target reduced by Canaccord Genuity from C$3.75 to C$2.75 in a research report released on Thursday.
Several other brokerages have also recently weighed in on SGY. Cormark boosted their target price on Surge Energy from C$4.00 to C$4.50 in a report on Tuesday, October 9th. Industrial Alliance Securities restated a buy rating and set a C$4.00 target price on shares of Surge Energy in a report on Friday, September 21st. National Bank Financial upgraded Surge Energy from an underperform rating to an outperform rating and set a C$4.00 target price on the stock in a report on Friday, October 26th. TD Securities lowered their target price on Surge Energy from C$3.50 to C$3.00 and set a buy rating on the stock in a report on Friday, October 26th. Finally, CIBC boosted their target price on Surge Energy from C$2.75 to C$3.00 in a report on Friday, October 26th. One equities research analyst has rated the stock with a hold rating and five have assigned a buy rating to the company. The stock presently has a consensus rating of Buy and an average target price of C$3.01.
SGY stock traded down C$0.03 during trading on Thursday, hitting C$1.46. The stock had a trading volume of 2,929,015 shares, compared to its average volume of 1,298,258. The company has a current ratio of 0.92, a quick ratio of 0.77 and a debt-to-equity ratio of 37.50. Surge Energy has a twelve month low of C$1.31 and a twelve month high of C$2.76.
Surge Energy (TSE:SGY) last issued its earnings results on Tuesday, November 6th. The company reported C$0.04 earnings per share for the quarter, missing the Thomson Reuters' consensus estimate of C$0.06 by C($0.02). The firm had revenue of C$91.04 million during the quarter. Research analysts expect that Surge Energy will post 0.140000007567568 earnings per share for the current year.
The company also recently declared a monthly dividend, which will be paid on Tuesday, January 15th. Stockholders of record on Monday, December 31st will be given a dividend of $0.008 per share. This represents a $0.10 annualized dividend and a dividend yield of 6.60%. The ex-dividend date is Friday, December 28th. Surge Energy's payout ratio is presently -508.76%.
In other news, Director Paul Colborne purchased 25,000 shares of Surge Energy stock in a transaction dated Tuesday, October 16th. The shares were purchased at an average price of C$2.33 per share, with a total value of C$58,250.00. In the last ninety days, insiders have bought 112,500 shares of company stock worth $202,440.
About Surge Energy
Surge Energy Inc engages in the exploration, development, and production of oil and gas properties in western Canada. The company holds interests in the Valhalla/Wembley property located to the northwest of Grand Prairie in northwestern Alberta; the Nipisi property located to the north of the town of Slave Lake, in northwestern Alberta; and the Nevis property located to the east of Red Deer, Alberta.
Featured Article: How Buying a Call Option Works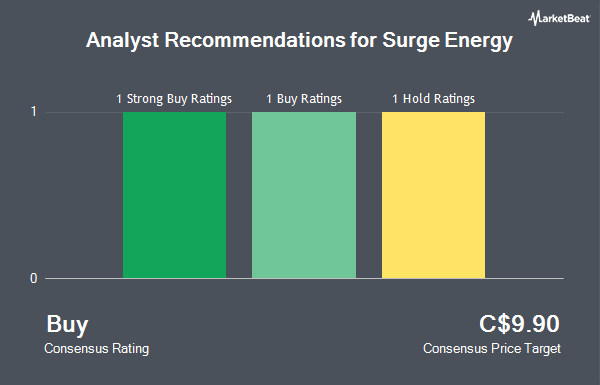 Receive News & Ratings for Surge Energy Daily - Enter your email address below to receive a concise daily summary of the latest news and analysts' ratings for Surge Energy and related companies with MarketBeat.com's FREE daily email newsletter.