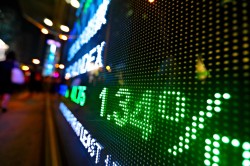 Apollo Medical Holdings Inc (NASDAQ:AMEH) has been given a consensus broker rating score of 2.00 (Buy) from the one brokers that cover the company, Zacks Investment Research reports. One equities research analyst has rated the stock with a buy recommendation.
Brokerages have set a twelve-month consensus target price of $27.50 for the company and are predicting that the company will post $0.12 EPS for the current quarter, according to Zacks. Zacks has also given Apollo Medical an industry rank of 102 out of 256 based on the ratings given to its competitors.
AMEH has been the topic of a number of research analyst reports. Zacks Investment Research raised Apollo Medical from a "sell" rating to a "hold" rating in a report on Tuesday, October 16th. ValuEngine downgraded Apollo Medical from a "buy" rating to a "hold" rating in a report on Wednesday, January 2nd.
In related news, insider Adrian Vazquez sold 221,597 shares of the firm's stock in a transaction on Wednesday, November 21st. The stock was sold at an average price of $17.55, for a total transaction of $3,889,027.35. The transaction was disclosed in a filing with the SEC, which is accessible through the SEC website. Also, CEO Warren Hosseinion sold 50,000 shares of the firm's stock in a transaction on Friday, November 23rd. The shares were sold at an average price of $16.55, for a total value of $827,500.00. The disclosure for this sale can be found here. In the last ninety days, insiders sold 361,597 shares of company stock worth $6,325,227. Company insiders own 20.50% of the company's stock.
A hedge fund recently raised its stake in Apollo Medical stock. Vanguard Group Inc lifted its position in shares of Apollo Medical Holdings Inc (NASDAQ:AMEH) by 184.8% during the 3rd quarter, according to the company in its most recent 13F filing with the Securities & Exchange Commission. The institutional investor owned 928,911 shares of the company's stock after acquiring an additional 602,710 shares during the quarter. Vanguard Group Inc owned approximately 2.73% of Apollo Medical worth $20,501,000 at the end of the most recent reporting period. Institutional investors and hedge funds own 6.70% of the company's stock.
Apollo Medical stock traded down $0.42 during mid-day trading on Tuesday, reaching $19.16. 5,558 shares of the company were exchanged, compared to its average volume of 28,707. Apollo Medical has a 12 month low of $13.01 and a 12 month high of $30.00. The company has a debt-to-equity ratio of 0.07, a quick ratio of 2.20 and a current ratio of 2.20.
Apollo Medical (NASDAQ:AMEH) last posted its quarterly earnings data on Wednesday, November 14th. The company reported $0.24 EPS for the quarter, topping the Zacks' consensus estimate of $0.09 by $0.15. The company had revenue of $167.28 million for the quarter. As a group, equities research analysts forecast that Apollo Medical will post 0.49 EPS for the current fiscal year.
About Apollo Medical
Apollo Medical Holdings, Inc, an integrated health care delivery and management company, provides medical care services. The company offers care coordination services to principal constituents of the healthcare delivery system, including patients, families, primary care physicians, specialists, acute care hospitals, alternative sites of inpatient care, physician groups, and health plans.
Featured Story: How is the S&P 500 index different from the DJIA?
Get a free copy of the Zacks research report on Apollo Medical (AMEH)
For more information about research offerings from Zacks Investment Research, visit Zacks.com
Receive News & Ratings for Apollo Medical Daily - Enter your email address below to receive a concise daily summary of the latest news and analysts' ratings for Apollo Medical and related companies with MarketBeat.com's FREE daily email newsletter.