Univar (NYSE:UNVR) updated its first quarter 2019 earnings guidance on Friday. The company provided earnings per share (EPS) guidance of $0.27-0.29 for the period, compared to the Thomson Reuters consensus estimate of $0.42. Univar also updated its Q1 guidance to $0.27-0.29 EPS.
A number of brokerages have commented on UNVR. ValuEngine raised shares of Univar from a strong sell rating to a sell rating in a report on Monday, February 4th. Zacks Investment Research raised shares of Univar from a strong sell rating to a hold rating in a report on Tuesday, January 29th. Vertical Research raised shares of Univar from a hold rating to a buy rating in a report on Thursday, January 3rd. Wells Fargo & Co decreased their price objective on shares of Univar from $27.00 to $23.00 and set an outperform rating on the stock in a report on Friday, December 21st. Finally, TheStreet lowered shares of Univar from a b- rating to a c+ rating in a report on Tuesday, December 4th. One analyst has rated the stock with a sell rating, two have given a hold rating, five have given a buy rating and one has assigned a strong buy rating to the company's stock. The company has an average rating of Buy and a consensus target price of $29.20.
Univar stock traded up $0.25 during trading hours on Friday, reaching $21.35. 4,364,044 shares of the company's stock traded hands, compared to its average volume of 1,089,997. The company has a current ratio of 1.77, a quick ratio of 1.14 and a debt-to-equity ratio of 2.07. Univar has a fifty-two week low of $16.33 and a fifty-two week high of $31.23. The company has a market cap of $3.02 billion, a PE ratio of 15.36, a PEG ratio of 1.02 and a beta of 1.56.
Univar (NYSE:UNVR) last released its earnings results on Friday, February 8th. The basic materials company reported $0.33 earnings per share (EPS) for the quarter, beating analysts' consensus estimates of $0.32 by $0.01. Univar had a net margin of 2.30% and a return on equity of 19.82%. The company had revenue of $1.97 billion for the quarter, compared to the consensus estimate of $2.01 billion. During the same period in the prior year, the company posted $0.34 EPS. The company's revenue was up .6% compared to the same quarter last year. Research analysts forecast that Univar will post 1.61 EPS for the current year.
COPYRIGHT VIOLATION WARNING: This news story was reported by Macon Daily and is the sole property of of Macon Daily. If you are accessing this news story on another domain, it was illegally stolen and republished in violation of international copyright laws. The legal version of this news story can be read at https://macondaily.com/2019/02/09/univar-unvr-releases-q1-2019-earnings-guidance.html.
Univar Company Profile
Univar Inc distributes commodity and specialty chemical products, and related services worldwide. It offers herbicides, fungicides, insecticides, seeds, micro and macro nutrients, horticultural products, fertilizers, and feeds; storage, packaging, and logistics services for crop protection companies, storing chemicals, feed-grade materials, and seed and equipment parties; and pest control products and equipment.
Read More: Net Margin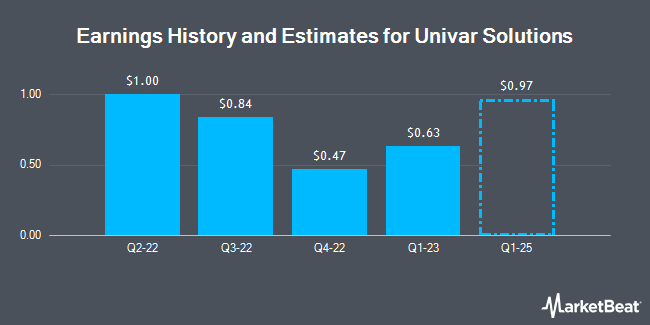 Receive News & Ratings for Univar Daily - Enter your email address below to receive a concise daily summary of the latest news and analysts' ratings for Univar and related companies with MarketBeat.com's FREE daily email newsletter.