Snap-on Incorporated (NYSE:SNA) announced a quarterly dividend on Friday, February 15th, Wall Street Journal reports. Stockholders of record on Monday, February 25th will be paid a dividend of 0.95 per share on Monday, March 11th. This represents a $3.80 annualized dividend and a dividend yield of 2.38%. The ex-dividend date of this dividend is Friday, February 22nd.
Snap-on has increased its dividend by an average of 15.7% per year over the last three years and has raised its dividend annually for the last 9 consecutive years. Snap-on has a payout ratio of 32.2% indicating that its dividend is sufficiently covered by earnings. Equities research analysts expect Snap-on to earn $13.17 per share next year, which means the company should continue to be able to cover its $3.80 annual dividend with an expected future payout ratio of 28.9%.
Shares of SNA stock opened at $159.83 on Thursday. The company has a current ratio of 2.33, a quick ratio of 1.62 and a debt-to-equity ratio of 0.30. The firm has a market cap of $8.85 billion, a PE ratio of 13.47, a price-to-earnings-growth ratio of 1.33 and a beta of 1.34. Snap-on has a 52 week low of $135.29 and a 52 week high of $189.46.
Snap-on (NYSE:SNA) last announced its earnings results on Thursday, February 7th. The company reported $3.03 EPS for the quarter, hitting the consensus estimate of $3.03. The company had revenue of $952.50 million for the quarter, compared to analysts' expectations of $968.74 million. Snap-on had a return on equity of 21.62% and a net margin of 18.18%. The business's revenue for the quarter was down 2.3% on a year-over-year basis. During the same quarter in the prior year, the business earned $2.69 earnings per share. As a group, equities analysts predict that Snap-on will post 12.33 EPS for the current year.
In related news, Chairman Nicholas T. Pinchuk sold 22,433 shares of the firm's stock in a transaction dated Thursday, December 27th. The stock was sold at an average price of $140.80, for a total value of $3,158,566.40. The transaction was disclosed in a legal filing with the SEC, which is accessible through this link. Also, Director William Dudley Lehman sold 387 shares of the firm's stock in a transaction dated Friday, February 15th. The shares were sold at an average price of $157.19, for a total value of $60,832.53. Following the completion of the transaction, the director now owns 9,996 shares in the company, valued at approximately $1,571,271.24. The disclosure for this sale can be found here. 4.00% of the stock is owned by company insiders.
Several analysts have recently commented on the company. Zacks Investment Research upgraded Snap-on from a "sell" rating to a "hold" rating in a report on Tuesday, February 12th. TheStreet cut Snap-on from a "b" rating to a "c+" rating in a report on Wednesday, December 19th. Finally, Bank of America assumed coverage on Snap-on in a report on Friday, December 21st. They issued a "buy" rating and a $165.00 price target on the stock. Three investment analysts have rated the stock with a hold rating and four have assigned a buy rating to the company's stock. The company presently has a consensus rating of "Buy" and a consensus target price of $190.33.
TRADEMARK VIOLATION NOTICE: This news story was published by Macon Daily and is the property of of Macon Daily. If you are reading this news story on another domain, it was copied illegally and republished in violation of US & international copyright and trademark legislation. The legal version of this news story can be accessed at https://macondaily.com/2019/02/21/snap-on-incorporated-sna-announces-0-95-quarterly-dividend.html.
About Snap-on
Snap-on Incorporated manufactures and markets tools, equipment, diagnostics, and repair information and systems solutions for professional users worldwide. The company operates through Commercial & Industrial Group, Snap-on Tools Group, Repair Systems & Information Group, and Financial Services segments.
Read More: What does the Dow Jones Industrial Average (DJIA) measure?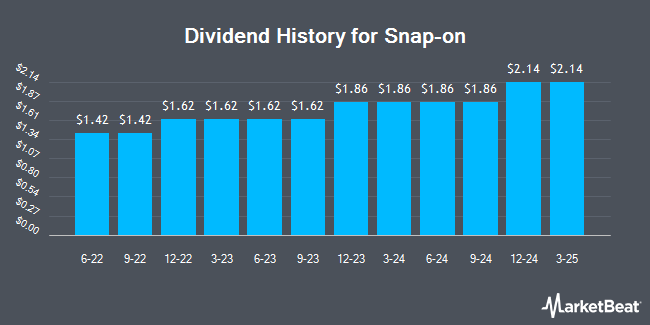 Receive News & Ratings for Snap-on Daily - Enter your email address below to receive a concise daily summary of the latest news and analysts' ratings for Snap-on and related companies with MarketBeat.com's FREE daily email newsletter.