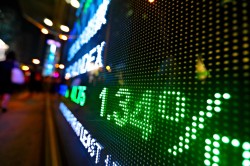 Revive Therapeutics Ltd (CVE:RVV)'s share price traded up 16.7% during mid-day trading on Wednesday . The company traded as high as C$0.18 and last traded at C$0.18. 388,986 shares were traded during trading, an increase of 251% from the average session volume of 110,775 shares. The stock had previously closed at C$0.15.
The stock has a market capitalization of $7.24 million and a PE ratio of -6.30.
Revive Therapeutics (CVE:RVV) last announced its earnings results on Thursday, February 28th. The company reported C($0.01) earnings per share (EPS) for the quarter.
COPYRIGHT VIOLATION WARNING: "Revive Therapeutics (RVV) Trading 16.7% Higher" was reported by Macon Daily and is the property of of Macon Daily. If you are reading this story on another publication, it was stolen and republished in violation of international copyright legislation. The correct version of this story can be viewed at https://macondaily.com/2019/04/17/revive-therapeutics-rvv-trading-16-7-higher.html.
About Revive Therapeutics (CVE:RVV)
Revive Therapeutics Ltd. develops and commercializes cannabinoid-based products in Canada. The company develops REV-002, a bucillamine that has completed Phase II-A clinical studies for the treatment of acute gout flares. Its product pipeline also includes REV-004, a bucillamine for the treatment of cystinurial.
Read More: What is Net Asset Value (NAV)?
Receive News & Ratings for Revive Therapeutics Daily - Enter your email address below to receive a concise daily summary of the latest news and analysts' ratings for Revive Therapeutics and related companies with MarketBeat.com's FREE daily email newsletter.