Eagle Materials (NYSE:EXP) issued an update on its fourth quarter earnings guidance on Thursday morning. The company provided EPS guidance of $0.85-0.89 for the period, compared to the Thomson Reuters consensus EPS estimate of $0.77. The company issued revenue guidance of $283-285 million, compared to the consensus revenue estimate of $274.13 million.
NYSE:EXP opened at $84.33 on Thursday. The company has a current ratio of 2.26, a quick ratio of 0.87 and a debt-to-equity ratio of 0.42. The stock has a market cap of $3.97 billion, a price-to-earnings ratio of 19.98, a price-to-earnings-growth ratio of 1.86 and a beta of 1.34. Eagle Materials has a 52 week low of $57.00 and a 52 week high of $115.75.
Eagle Materials (NYSE:EXP) last posted its quarterly earnings results on Tuesday, January 29th. The construction company reported $1.24 EPS for the quarter, missing the Zacks' consensus estimate of $1.30 by ($0.06). The business had revenue of $333.30 million for the quarter, compared to the consensus estimate of $357.08 million. Eagle Materials had a net margin of 16.77% and a return on equity of 17.49%. Eagle Materials's revenue was down 7.3% compared to the same quarter last year. During the same period in the prior year, the business earned $2.08 earnings per share. As a group, analysts predict that Eagle Materials will post 5.09 earnings per share for the current fiscal year.
The company also recently disclosed a quarterly dividend, which will be paid on Friday, May 10th. Stockholders of record on Friday, April 12th will be given a dividend of $0.10 per share. The ex-dividend date is Thursday, April 11th. This represents a $0.40 dividend on an annualized basis and a dividend yield of 0.47%. Eagle Materials's payout ratio is 9.48%.
A number of research analysts have recently weighed in on EXP shares. TheStreet upgraded Eagle Materials from a c+ rating to a b- rating in a research report on Monday. SunTrust Banks started coverage on Eagle Materials in a research report on Monday, March 25th. They set a buy rating for the company. Macquarie set a $100.00 price objective on Eagle Materials and gave the company a buy rating in a research report on Tuesday, April 2nd. Citigroup lifted their price target on Eagle Materials from $84.00 to $87.00 and gave the stock a buy rating in a research report on Monday, April 1st. Finally, DA Davidson lifted their price target on Eagle Materials to $90.00 and gave the stock a buy rating in a research report on Wednesday, January 2nd. Seven analysts have rated the stock with a hold rating and eight have given a buy rating to the company. The stock presently has a consensus rating of Buy and an average target price of $103.14.
In related news, Director Ed H. Bowman, Jr. sold 2,591 shares of Eagle Materials stock in a transaction dated Thursday, January 31st. The stock was sold at an average price of $71.35, for a total value of $184,867.85. Following the completion of the transaction, the director now owns 12,977 shares in the company, valued at $925,908.95. The transaction was disclosed in a document filed with the SEC, which is available at this hyperlink. Company insiders own 1.70% of the company's stock.
TRADEMARK VIOLATION NOTICE: This report was posted by Macon Daily and is owned by of Macon Daily. If you are reading this report on another publication, it was illegally copied and reposted in violation of US and international trademark & copyright laws. The original version of this report can be viewed at https://macondaily.com/2019/04/18/eagle-materials-exp-issues-q4-earnings-guidance.html.
About Eagle Materials
Eagle Materials Inc, through its subsidiaries, produces and supplies heavy construction materials, light building materials, and materials used for oil and natural gas extraction in the United States. It operates in five segments: Cement, Concrete and Aggregates, Gypsum Wallboard, Recycled Paperboard, and Oil and Gas Proppants.
Read More: What is a Lock-Up Period?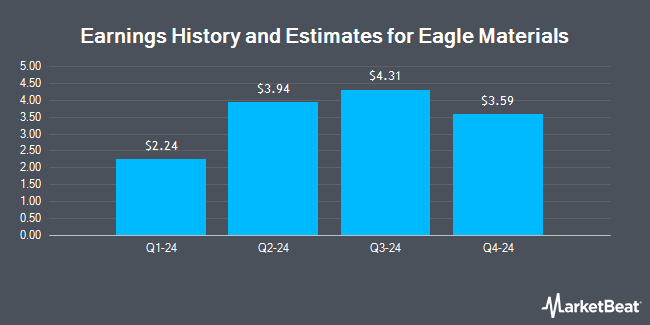 Receive News & Ratings for Eagle Materials Daily - Enter your email address below to receive a concise daily summary of the latest news and analysts' ratings for Eagle Materials and related companies with MarketBeat.com's FREE daily email newsletter.