Fidelity Southern Co. (NASDAQ:LION) announced a dividend on Friday, April 19th, Fidelity reports. Stockholders of record on Monday, April 29th will be paid a dividend of 0.12 per share by the financial services provider on Friday, May 10th. The ex-dividend date is Friday, April 26th.
Fidelity Southern has raised its dividend payment by an average of 7.2% per year over the last three years. Fidelity Southern has a payout ratio of 33.3% indicating that its dividend is sufficiently covered by earnings. Analysts expect Fidelity Southern to earn $1.87 per share next year, which means the company should continue to be able to cover its $0.48 annual dividend with an expected future payout ratio of 25.7%.
Shares of NASDAQ:LION opened at $28.07 on Friday. The stock has a market cap of $774.62 million, a P/E ratio of 17.43 and a beta of 0.66. Fidelity Southern has a 12 month low of $21.18 and a 12 month high of $33.32. The company has a debt-to-equity ratio of 0.27, a quick ratio of 0.94 and a current ratio of 1.00.
Fidelity Southern (NASDAQ:LION) last issued its quarterly earnings results on Thursday, April 18th. The financial services provider reported $0.22 EPS for the quarter, missing the consensus estimate of $0.34 by ($0.12). The firm had revenue of $62.09 million for the quarter, compared to the consensus estimate of $65.10 million. Fidelity Southern had a net margin of 12.21% and a return on equity of 8.81%. On average, equities analysts forecast that Fidelity Southern will post 1.63 EPS for the current year.
In related news, Director Rankin M. Smith, Jr. bought 10,000 shares of the company's stock in a transaction on Thursday, March 7th. The shares were acquired at an average cost of $30.50 per share, for a total transaction of $305,000.00. Following the purchase, the director now directly owns 273,540 shares of the company's stock, valued at $8,342,970. The purchase was disclosed in a document filed with the SEC, which is available through the SEC website. 20.18% of the stock is owned by corporate insiders.
Several equities analysts recently commented on the stock. BidaskClub downgraded shares of Fidelity Southern from a "hold" rating to a "sell" rating in a report on Friday, March 22nd. Stephens reiterated a "buy" rating and set a $31.00 price target on shares of Fidelity Southern in a report on Thursday. Finally, Zacks Investment Research upgraded shares of Fidelity Southern from a "hold" rating to a "buy" rating and set a $31.00 price target on the stock in a report on Thursday, January 17th. Two investment analysts have rated the stock with a hold rating and three have issued a buy rating to the company. Fidelity Southern has an average rating of "Buy" and a consensus target price of $29.33.
COPYRIGHT VIOLATION WARNING: "Fidelity Southern Co. (LION) to Issue Dividend of $0.12 on May 10th" was originally reported by Macon Daily and is the property of of Macon Daily. If you are reading this piece of content on another website, it was copied illegally and republished in violation of U.S. & international copyright and trademark law. The original version of this piece of content can be viewed at https://macondaily.com/2019/04/21/fidelity-southern-co-lion-to-issue-dividend-of-0-12-on-may-10th.html.
About Fidelity Southern
Fidelity Southern Corporation operates as the bank holding company for Fidelity Bank that provides financial products and services primarily to individuals and small to medium-sized businesses in the United States. The company accepts noninterest-bearing and interest-bearing demand accounts, including money market accounts and savings deposits; and time deposits.
Further Reading: What is the Gross Domestic Product (GDP)?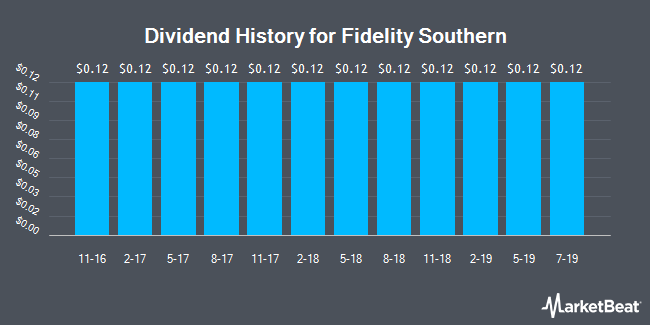 Receive News & Ratings for Fidelity Southern Daily - Enter your email address below to receive a concise daily summary of the latest news and analysts' ratings for Fidelity Southern and related companies with MarketBeat.com's FREE daily email newsletter.