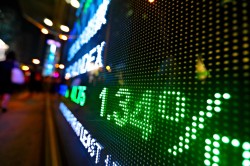 Deutsche Bank reissued their hold rating on shares of HAIER ELECTRONI/ADR (OTCMKTS:HRELY) in a research report released on Tuesday morning, Briefing.com Automated Import reports.
HAIER ELECTRONI/ADR stock opened at $26.62 on Tuesday. HAIER ELECTRONI/ADR has a 1 year low of $20.19 and a 1 year high of $38.20.
The firm also recently declared an annual dividend, which will be paid on Monday, August 26th. Investors of record on Tuesday, July 2nd will be given a $0.434 dividend. This represents a yield of 1.44%. The ex-dividend date is Monday, July 1st.
About HAIER ELECTRONI/ADR
Haier Electronics Group Co, Ltd., an investment holding company, engages in the research, development, production, and sale of washing machines and water heaters under the brand name of Haier, Casarte, and Leader in Mainland China and internationally. It operates through four segments: Washing Machine Business, Water Heater Business, Channel Services Business, and Logistics Business.
Recommended Story: Cost of Equity For A Business, Investors
Receive News & Ratings for HAIER ELECTRONI/ADR Daily - Enter your email address below to receive a concise daily summary of the latest news and analysts' ratings for HAIER ELECTRONI/ADR and related companies with MarketBeat.com's FREE daily email newsletter.