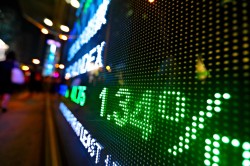 Imperial Capital lowered shares of Roan Resources (NASDAQ:ROAN) from an outperform rating to an in-line rating in a report published on Thursday, Zacks.com reports.
Separately, Ifs Securities reiterated a market perform rating on shares of Roan Resources in a research report on Sunday, February 3rd.
Shares of NASDAQ:ROAN traded down $0.42 during mid-day trading on Thursday, reaching $2.90. The stock had a trading volume of 52,729 shares, compared to its average volume of 404,104. Roan Resources has a twelve month low of $3.31 and a twelve month high of $19.46.
Roan Resources (NASDAQ:ROAN) last announced its quarterly earnings results on Monday, March 18th. The company reported $0.17 earnings per share for the quarter, missing analysts' consensus estimates of $0.24 by ($0.07). The company had revenue of $307.05 million for the quarter, compared to analyst estimates of $143.00 million.
About Roan Resources
Roan Resources, Inc, an independent oil and natural gas company, engages in the acquisition, exploration, and development of unconventional oil and natural gas reserves. It holds interests in various assets that cover approximately 150,000 net acres located in Merge, SCOOP, and STACK plays of the Anadarko Basin in Oklahoma.
Featured Story: Bollinger Bands
Receive News & Ratings for Roan Resources Daily - Enter your email address below to receive a concise daily summary of the latest news and analysts' ratings for Roan Resources and related companies with MarketBeat.com's FREE daily email newsletter.